FRONT BUMPERS
Manufactured from high quality structural steel, Dobinsons Bull Bars are CNC cut, bent and welded for accurate fitment and optimum strength and durability.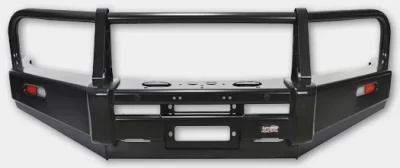 CLASSIC BLACK BUMPER
Perfect for tradies, commercial vehicles and 4x4 owners that want a great looking Bull Bar filled with features, all for a great price.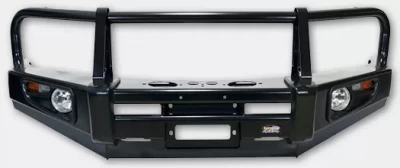 CLASSIC BLACK DELUXE
For 4x4 owners who are after a tougher look, this Bull Bar provides all the features plus 100mm fog lights.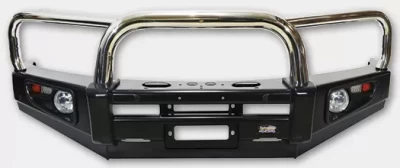 STAINLESS LOOP DELUXE
When looking for an up-market, prestigious Bull Bar, you can't go past the Stainless Loop Deluxe featuring all the Dobinsons features plus 100mm fog lights.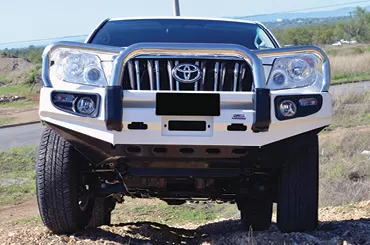 Most Dobinsons Bull Bars are also equipped with centre and side protection plates for the underside of the Bull Bar.
A crucial feature to help protect vital vehicle components when off-road driving.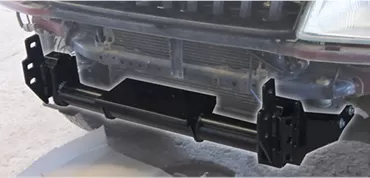 Separate winch cradle to chassis mounting system allows the additional weight of the wing and winching load to be supported directly by the chassis.
NOTE:
Classic Black and Classic Black Deluxe Bull Bars are supplied with a black finish. Stainless Loop Deluxe Bull Bars are supplied with a black finish and stainless steel loops. Color matching can be performed by your local automotive spray painter.

Due to the additional weight when fitting a Bull Bar and/or Winch, the vehicle's ride height will be lowered. Dobinsons Spring & Suspension suggest replacing the springs with a matched pair of springs to suit the requirement.
CNC CUTTING
CNC Laser Profile Cutting ensures perfect accuracy and consistent quality every time without causing unwanted heat distortion.
HYDRAULIC SHEET BENDING
CNC Hydraulic sheet bending machines ensures that the bull bar corner folds are accurate every time without deviation.
LOOP MANDRELS
The tube loops in Dobinsons Bull Bars are made from tube with up to 2.0mm wall thickness* and are bent using CNC Mandrel Bending for uniform shape and wall thickness.
ACCURATE WELDING
Computer programmed robotic welders are used for repetitive intricate welding joins to improve efficiency and accuracy.
JIG ASSEMBLED
All Bull Bars are jig assembled, hand tack welded and then finish welded to ensure accuracy and perfect fitment of each Bull Bar.
CHEMICALLY CLEANED
All Bull Bars are first chemically cleaned, followed by zinc phosphate pre-treatment then powder-coated satin black for a high quality, corrosion resistant aesthetic finish.